Top 10 Cardio Exercises That Will Help You Burn Even More Calories than Running
Many people love running. Whether it is a routine or just a normal time-to-time jog, running is helpful when it comes to reducing stress, boosting endurance, and of course, burning calories and helping us lose weight. Just put on a pair of sneakers and head out. However, there are people that simply don't prefer running and that is okay. If you're one of those people and you're looking for an alternative method to burning fat at a lightning-fast speed, we suggest you to take a look at the 10 exercises we have provided you with today:
1. The "Kettlebell Swing"
This cardio exercise is explosive when it comes to working your gluteus, quads and overdriving your heart. According to a study, people who performed this exercise were losing an incredible amount of 20 calories per minute with a heart rate of 93 percent of its max. The exercise lasts 10 minutes and the secret behind its efficiency is because it makes your body do movements in an unusual way.
2. Indoor Rowing
The indoor rowing exercise causes an 180-pound man to efficiently burn around 370 pounds, during an exercise that lasts 30 minutes. Apply math and you get 12.5 calories a minute. It is a complete body exercise involving your back, legs, and arms. The indoor rowing is an excellent exercise for all ages and body sizes.
3. Burpees
One single burpee helps an 180-pound person to burn 1.40 calories. Now considering you're doing 10 burpees per minute, that results in approximately 14.3 calories per minute. So performing this killer cardio workout exercise for an at least 20-30 minutes a day will definitely mean a blast and an appearance change for your body.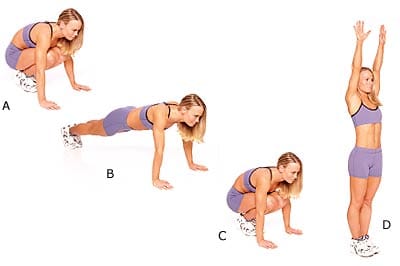 4. Airdyne Bike Sprints
Rob MacDonald – the manager of Gym Jones claims that this crazy exercise can burn an incredible amount of 87 calories per one minute only. This is due to the resistance being increased as you pedal. The only rule – give everything you got during the 60-second workout because the number of burnt calories solely depends on the effort you put into the exercise. 
5. Rope Jumping
The average intensity rope jumping includes somewhere around 100-150 skips per minute which roughly translates to 13 calories burned in one minute. This is because the exercise itself involves muscle groups that don't get activated during the standard jog, which challenges your coordination and balance. According to "Science Daily", skipping rope for just 10 minutes every day is the same as running a mile.
6. Fat Tire Biking 
This one is a new fast growing sport involving cycling. Professionals claim that it helps you burn even up to 1,500 calories in one hour, or in other words, 25 calories a minute. The efficiency of and calorie burn of this exercise depend solely on your strength and fitness levels since the exercise involves pedaling hard-to-turn and heavy monster bikes across different types of terrains. 
7. "Cindy"
The Cindy exercise that won "CrossFit Workout of the Day" burns 10-13 calories per minute, as claimed by the experts over at Kennesaw State University. The exercise consists of 3 parts: 10 push-ups, 15 air squats, and 5 pull-ups.  The efficiency lies in these three parts that play a role in activating different muscles groups. The average exercise should last around 20 minutes while doing as many rounds as you can. So if you're already practicing some exercising routine, you can try the method without resting, however, if you're a rookie looking to start somewhere, you can rest, and resting is also completely normal.  Almost any exercise that requires the body to go from a standing position down to the ground is an excellent calorie burner since it increases the heart rate.
8.Skiing Cross-Country 
Cross-country skiing is better in many ways when compared with a standard cardio jog. A good skiing session helps burn somewhere around 12 calories per minute because it requires the work of both your upper body to pull and your lower body to push. This is also the reason why some Nordic skiers collapse from exhaustion after the finish of their races.
9. The "Tabata" Jump Squats
The "Tabata" jump squats is an exercise that lasts around 4 minutes that will burn calories in your body even after the workout. A study was done at Auburn University, including a few participants that did eight rounds of no stop jump squats for 20 seconds with in-between rest of 10 seconds, caused showed that the participants burned 13.4 calories in just one minute of  working out. This doubled their after-work out metabolic rate to speed up for the next 30 minutes.
10. Rope Battling
A recent study done by the College of New Jersey compared a few oxygen-consumption exercises that had an average calorie burn of 10,3. The exercise that came in the first place was battling ropes. Why this exercise is so amazing is that you can switch from working your biceps and abs to suddenly working your legs and shoulders. Add some lunges or squats to this, and you'll be having a calorie-burning blast that you won't forget.
More related posts: